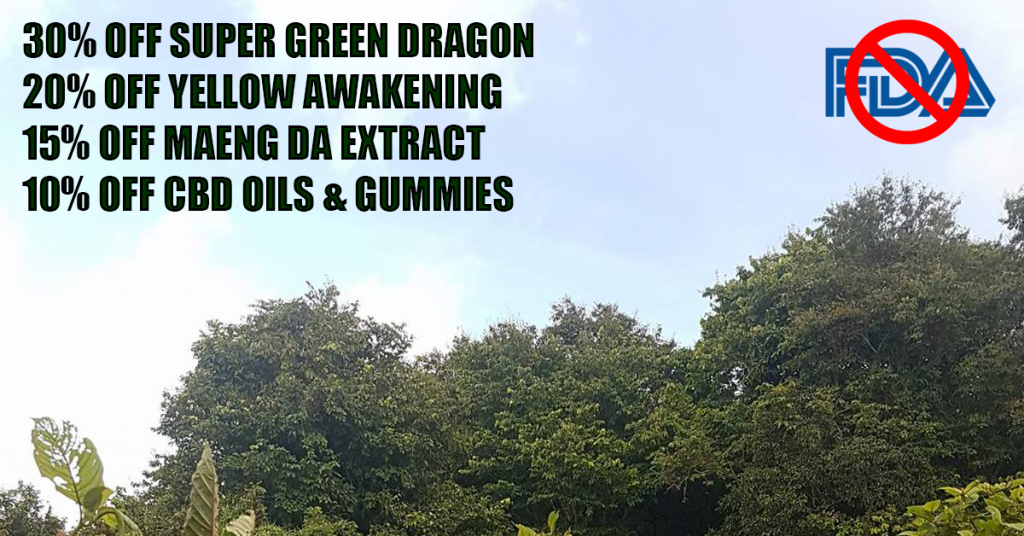 Love it or hate it, Black Friday is upon us. And in a few days, it's Cyber Monday. Not only that, the FDA recently released a Health Advisory with all sorts of lies and misinformation in it. (see report below) To give the FDA a big F*** YOU, we are gonna make it easier for you to get some of our high quality kratom!
To save you (and us!) the confusion, we're turning these three sales into one big sale, lasting now through Monday the 27th at Midnight!
– 30% OFF Green Dragon 1, 2, and 4 ozs
use coupon code – "greendragon"
– 20% OFF  Yellow Awakening 1, 2, and 4 ozs
use coupon code – "yellowawakening"
– 15% OFF Maeng Da Extract
use coupon code – "extract"
– 10% OFF ALL CBD products
use coupon code "cbd"
Hurry, get your discounted kratom now while supplies last!
| | |
| --- | --- |
| Super Green Dragon | Yellow Awakening |
| 30% OFF! | 20% OFF! |
| | |
| | |
| --- | --- |
| Maeng Da Extract | CBD |
| 15% OFF! | 10% OFF! |
| | |